I spent another day learning ORK and I am really glad I stuck with it so far! I have two questions, and I couldn't find any tutorials on the first one:
1. I want to do cutscenes. Is there a tutorial for this? Specifically, I want to start the game with a first person perspective, looking into a stream, watching a legacy animation loop. There is a clean cut camera shift to third person, with the player movement constrained, the camera a little to the side. An NPC on a route from offscreen wanders into the scene and stops at a navpoint, then delivers a line of dialog. Then there is a fade out cinematic and the user can control the player in third person, not constrained, the camera now behind the player as seen in the default follow ORK cam.
Should I be using the events to create something like this(multicamera/multievent cutscenes) on event Autostart?
I'm not completely sure where to begin but I was wondering if this cold be possible without knowledge beyond tutorials and a little more ORK experience. I don't want to script directly with the ORK API. I tried that before with Opsive third person controller and will never do it again. I'll add that I can make the stream animation myself, but outside of that, am I really just manipulating cameras and using ORK events to initiate each step?
Secondly, I also want to create the sensation, during dialog, (not this event explained above, but throughout the game) that the camera looks directly at the speaker during conversation. This is best seen in Mass Effect. I am assuming I would just set up a camera per NPC that I talk to, do an event step before their line that zooms in on them to my desired perspective, and do a back and forth between my character and the NPC in this way. Please seen example, sans the facerigs..(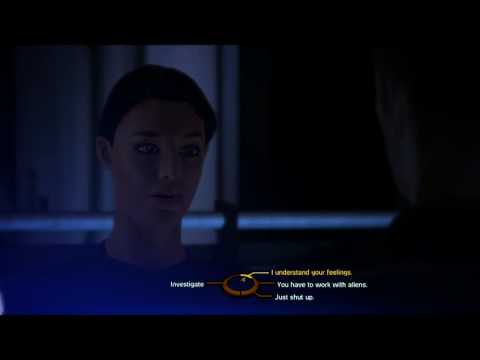 )
2. Dialog Trees. I thought about using Fungus. Just wonder if anyone has experience with that. OR, has anyone ever did something like have a private variable with relationship points or choices? I did see the dialog example in the tutorial, but I wanted to know someone else's experience handling long and complex relationship decisions in a game. I think there are a few tools out there like Love/Hate and some other thing by Pixel Crushers called Dialog System (?)(maybe),
so anyone with firsthand experience, I am trying to use ORK to keep track of narrative and choices. What's my best bet?

Post edited by aileigh37 on